Get A Grip Next Time You Fish!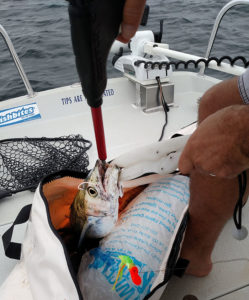 I can truthfully say that I have never met anyone who likes having their hands close to a toothy creature with a pair of needle nose pliers—such as a King Mackerel, Spanish Mackerel, Blue Fish, Flounder, Wahoo, Lizard Fish, Sharks etc., until now.
If you are a seasoned angler or just getting started, let me introduce to you an absolute must have for all tackle boxes. After seeing how easy it is to use and operate a quality de-hooking tool, every fisher person
wants the GripFlip de-hooker.
A short time ago I was invited to go offshore on a friend's 55′ Hatteras to go after Kings and Wahoo using nothing but Big Nic's Mackahoos with thawed cigar minnows. As I was loading up for the trip I thought it best to bring along both the smaller and larger GripFlip de-hooking tools. So glad I did! After the first king was brought over the gunnels, I told everyone to put the pliers away and give the GripFlip a try. Needless to say, every time a fish was brought in, without hesitation, everyone reached for the GripFlip. With four fishermen and two fisher women it became an instant success.
It's become the most used tool on all our charters. It works great for single and multiple treble hooks. If you are interested in safely removing all types of hooks then the GripFlip de-hooker tool is for you.
For more information: gripflip.net
____________________________________________________________________________________
Kings For A Day!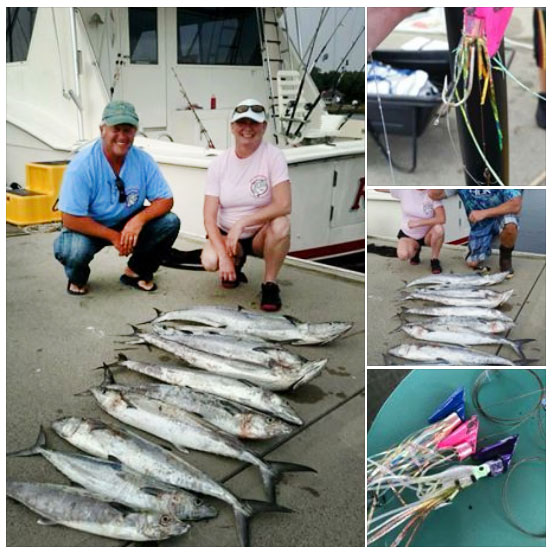 I want to thank Eric Brockman for a great time on the water. Our plan was to go out offshore, but we were running on one engine due to air in the lines, so we stayed at about 17 miles out. I must say the Pink Head and Pearl Mylar caught all the Kings (Big Nic Fishing Lures), but one which was caught on a blue head . Took my stepsister Mark Pender and Captain Von Hall. Went on my good friend Eric Brockman's boat. We ran out of Cigar Minnows by lunch time. We should have had our limit, but lost several more . I did have something spool my Torium of 400 yards and we managed to chase it down. Got it about twenty yards from the boat and I guess I tried to horse it too much and the hooks pulled out. I'm assuming it was a Wahoo because it got out of there before we could get other lines in. I will say from here on out it's all Mylar for me. You can see the destruction on the Mackahoo Heads and they still continue to catch fish!
____________________________________________________________________________________
Tips For Jigging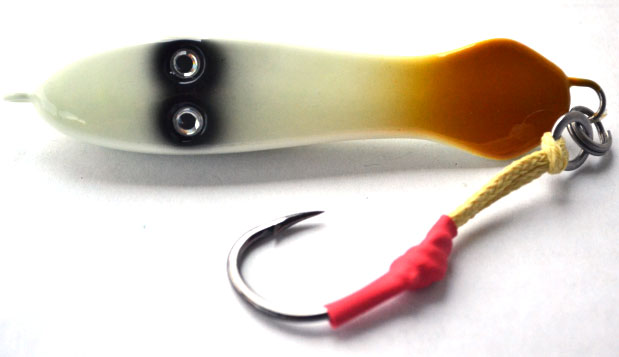 Before we get started, there's many ways to use a piece of metal with a hook to catch a wide variety of fish. Especially when you have zero bait on the boat, it's nice to have confidence in knowing you can still have a very productive day on the water. We always use a Spro quality barrel swivel anywhere from 12″ to 3′ of leader from jig to help with the action and line twist. I prefer the slow jigging types from Blue Water Candy and Big Nics Fishing because they produce and you don't have to work up a sweat trying to get a reactionary strike.
When used properly, (Let the jig's natural action do the work for you) you'll be able to catch flounder, African Pompano, grouper, Amber Jack, Kings, etc…Your local tackle shop can help with rod, reel and line setup to work best with your budget. When you locate a place that's holding fish, drop the jig to the bottom and go up to the desired depth and repeat. Be sure the current and wind isn't pulling your line under the boat, (Not good!) Fish vertical as much as possible. Also, be sure to avoid dropping your jig on a structure, break offs will happen and there goes your investment. Fish the edges as much as possible or find some ledges that's holding fish.
It's important to note, you want to drop the jig as quickly as possible, but always maintain control. When anchored up, drop the rod tip to the 8 o'clock position, smoothly raise to 10 o'clock position. If fishing on the bottom, try something like 9:30 to 10 o'clock method. Keep it as close to the bottom as possible. A lot of times the fish will hit at the 10 o'clock and you will want the extra room to let the rod load up before setting the hook. Seeing a little slack line on top of the water is good when dropping, it allows the jig to do what it's designed to do.
Try and avoid setting the hook on a slack line. Once a fish bites, reel in the slack line to load up the rod then set the hook. Remember to set the hook with a little force when using single thick hooks.
Also, with single hooks, try adding a scent such as a Berkeley Gulp curly tail or Fishbites molded shrimp. If none are available, use a piece of cut bait for those times the fish aren't cooperating. Sometimes a little scent is all that's needed to help trigger a bite.Treble hooks will occasionally hook a fish somewhere other than the lips, so be aware and adjust your technique accordingly. With trebles, try a controlled sweeping motion up or to the side after the rod is loaded, you should be able to tell which direction the fish is headed. Once hooked up, we will lighten the drag a little once the fish is up in the water column just in case we don't have a secure connection.
Depending on water temperature​, (Cold water will give your jig a slower action while warmer water will do the opposite) fish will be as active as the water temperature will allow. If the water temp is to warm, the fish will more than likely be sluggish. Adjust accordingly to see which speed works best for you.
I hope this helps and let us know if you have any ideas and techniques that work so we can share with others.
Her are a few of our favorite jigs and you can pick these up from your local tackle shop or online.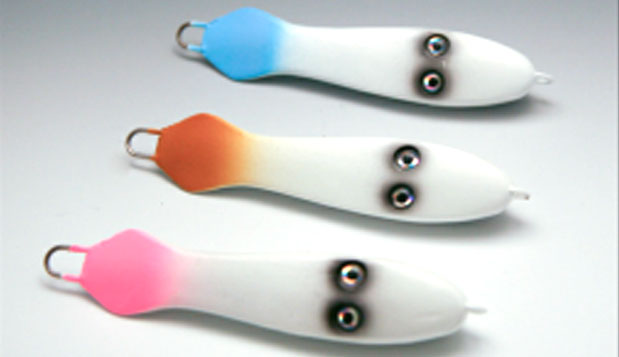 Blue Water Candy Roscoe Glow Jigs and Big Nic Fishing 6oz.
For more information: BigNicLures
____________________________________________________________________________________
Bucktail Jigging Like A Pro
Let me start off with a question. Have you ever tried a bucktail jig in the ocean? Yes, the same one you see on the shelves in every tackle shop across the country. Parts of the military, Sailors, Pilots, Forward Observers, etc…were issued bucktail jigs with hand lines for survival during WW2 because of the effectiveness they had to catch fish. Many a sailor and soldier since that time (Including myself) never left home without a few tucked away in their rucksack. Manufacturers such as, Spro, Blue Water Candy, Strike King…etc… are great choices. You want the quality of a sharp strong hook and a good amount of skirted material that can hold up to getting struck at numerous times. Bucktails work great with or without a bait. Whether it's loaded with Fishbites molded shrimp, Gulp or a plastic bait tipped with a scent such as, Procure, they work. They are a jig head with deer hair, nylon or other material used as a skirt attached. When the rod tip is pulled slowly through the water, once stopped, the skirt will open and present itself as a larger bait fish.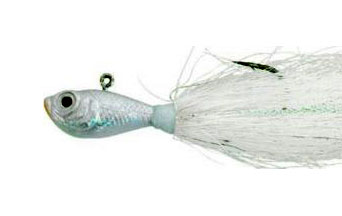 Bucktail jigs are probably one of the most versatile lures you can have in your tackle box. They're great in shallow or deep water when fishing on the bottom. Flounder, Black Sea bass, Amberjacks, Cobia, Grouper, Snapper and more have all fallen for a bucktail. Some people have had success trolling them as well. Not sure if color matters as much as the action. Although, white and pink seems to be the choice of color for most. The trick is not presenting it as a jig, but rather as a bait fish. If fishing at night, early morning or deep water where there's little to no sun light, I prefer one that glows. In the warmer months, if you've looked in the water at night and noticed what looked like a chem light trail scurrying off, chances are good it was a wounded bait fish. Those are most likely to be the work of bio-luminescent bacteria – microbes which will attach themselves to the wounds of a fish. If not careful, predators will spot the chartreuse looking glow and hone in for a easy meal. Otherwise, we use the standard white, pink or chartreuse colors with just enough weight to keep it working the bottom.
Bucktails will require some effort on the anglers' part for action to get a strike. Bouncing it closely off the bottom and occasionally raising the rod tip higher will help give it a darting, erratic movement to entice a strike. Deep water sizes will probably range from 1-6 oz. jigged off the bottom. You want just enough weight to keep contact with the surface. It depends on the current and speed drift of the boat as to how heavy of a jig you will use. If not feeling the bottom, let out more line. When working with scented artificial baits, it's important to slow down so fish can find your offering. If targeting flounder around structure, find the sandy or muddy area and bounce it off the bottom by lifting the rod tip about a foot and let it fall naturally (You'll see a small amount of slack line on the surface as it sinks!) Depending on water clarity and depth, I prefer fluorocarbon leader (length of 3-5′) over the mono leader for the abrasion resistance. Plus, I don't have to switch out the leaders as much going from dirty stained water to clear water. Remember, if you can see your leader material under the water, so can the fish.
We hope you picked up a little more ammo for your tackle box concerning a Bucktail Jig and want to hear any stories of your experience good or bad for the rest of us to learn from. Also, check with your local tackle shops for up to date fishing reports and products that work well with your budget.